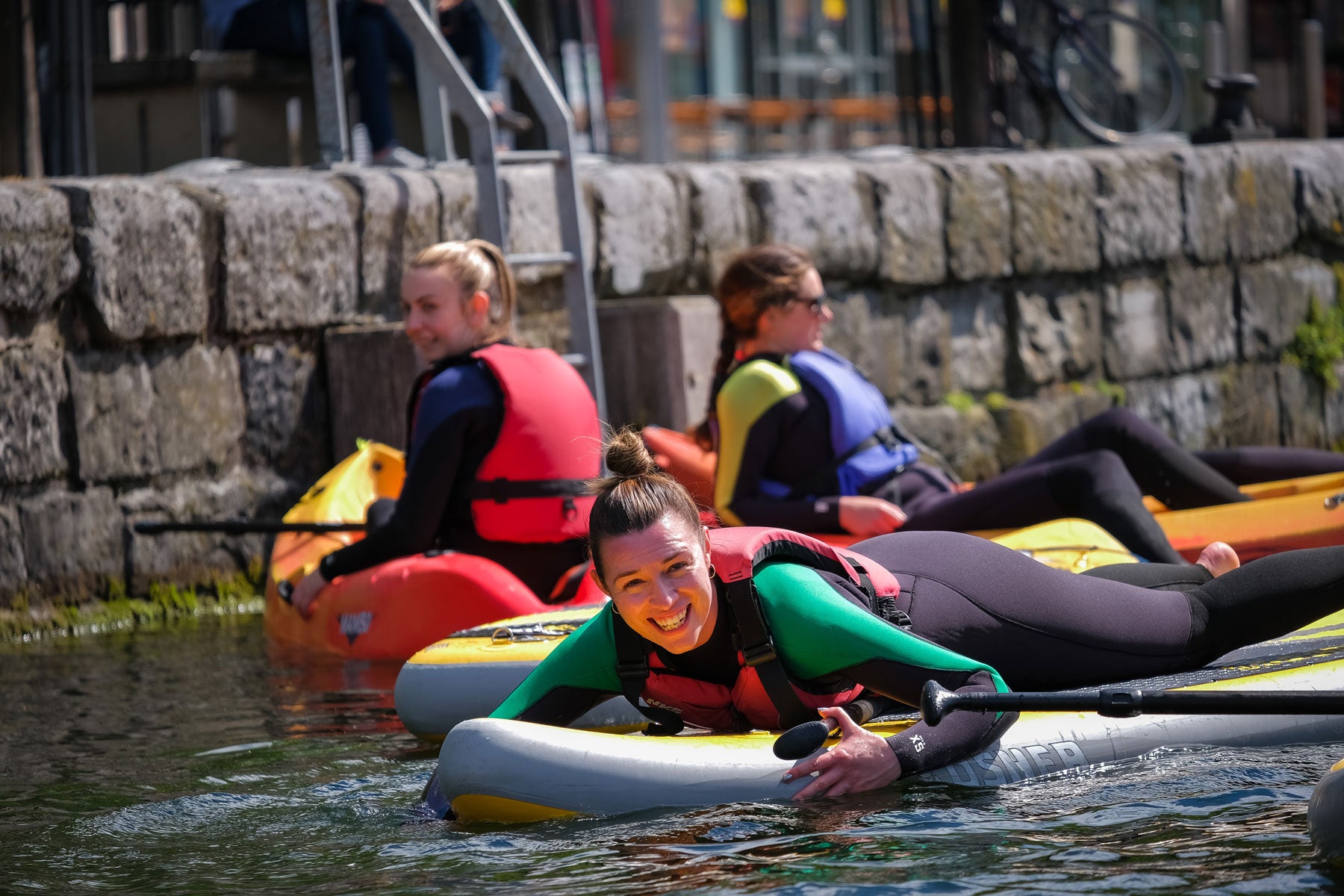 Adult Group Watersports Sessions
For Hen & Stag parties and Corporate Groups
Action-packed activities for your hen, stag and corporate groups
If you are looking for something different to do for your hen or stag party or corporate event, we've got you covered. Whether you would like a splash and dash session or something more structured, our qualified instructors will make sure that your group have a memorable time on the water that's all about fun! 
All our parties are private events, so our instructors will be dedicated to your group.
We are close to a host of restaurants where you can enjoy food after your session with us.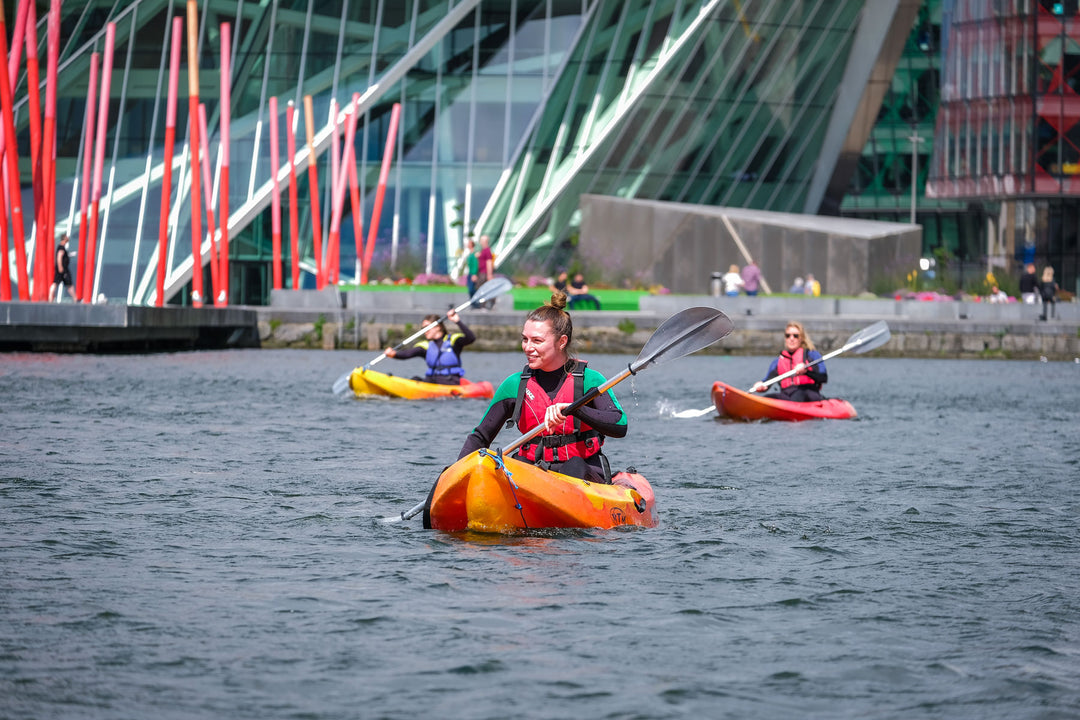 Kayaking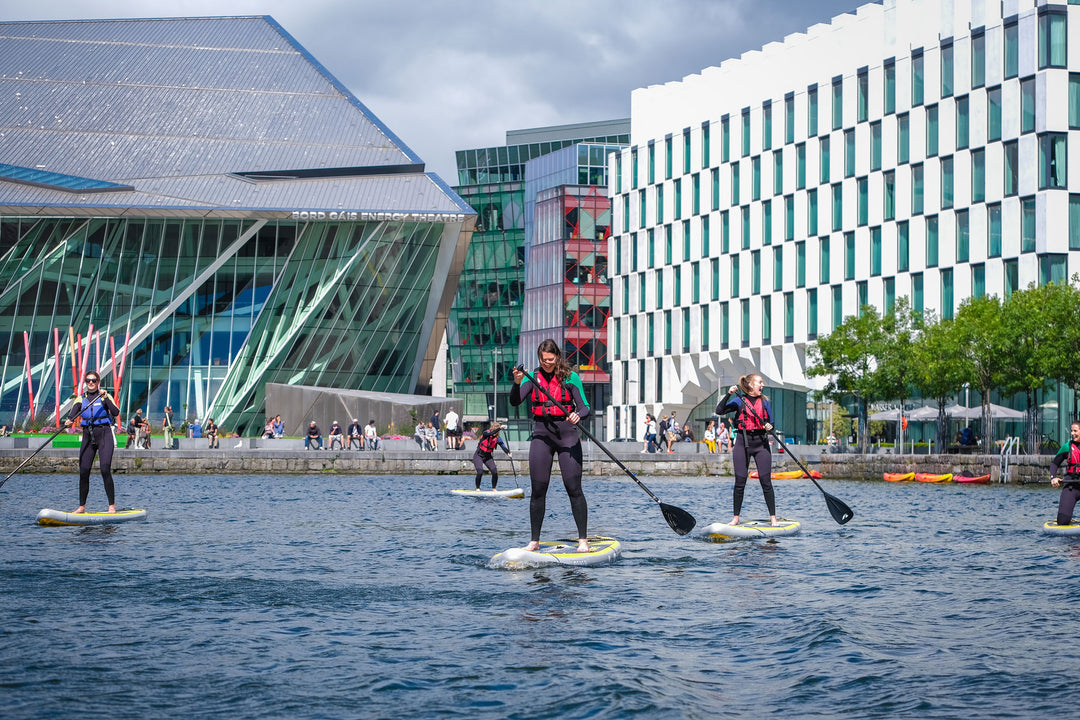 Paddle Boarding
Which activities are being offered?
This is a paddleboarding and kayaking session. We run the session on both single and double kayaks, individual paddleboards and our big Monster SUPs that can carry a group of people for some fun racing and group activities.
What does a typical day look like?
Arrival on site at the agreed time to meet your instructors and get checked-in. After getting changed, your group heads out on the water for their activities. You will come back to land after 2 hours. Once changed you are welcome to use our picnic area for your own food/drinks.
Plan around 3 hours from start to finish.
Example: if your arrival time is 12.30pm you will go on the water at approximately 1pm, off the water at 3pm and be ready to leave around 3.30pm
What does it cost?
Minimum group size is 10 people or the price for 10 people to be paid if your group is smaller.
10-24 participants: €45 per person
25 or more participants: €42 per person
What equipment do I need?
We provide all equipment for the activities including a buoyancy aid and wetsuit if needed.
Participants need to bring:
Wetsuits are provided free of charge, but of course you are welcome to bring your own. Our centre wetsuits are 5/3 winter wetsuits.
Appropriate footwear. We recommend an old pair of runners, neoprene booties or water shoes.
Note: Loose footwear like flip flops or Crocs are not allowed.
Swimwear for under the wetsuit.
Big Towel or changing robe to get changed outside. Please treat a trip to us like a trip to the beach.
How can I book?
Please email your enquiry to shop@surfdock.com with your prefered dates and group size.
Yes, all participants have to sign a waiver before they can go on a session with us. We offer a digital waiver that can be shared with parents by Whatsapp/Email or we can send you a pdf of the waiver to print out for the parents. Children without a waiver cannot participate in the activities. The text of the waiver can be found here.
This year we will have separate outdoor changing areas for men and women. They don't offer 100% visual cover so we are asking you to treat a trip to us like a trip to the beach and be prepared with a big towel or changing robe. 
Our toilets are open as usual.
We have lockers for valuables available free of charge.
Our adult group packages are 2 hours on the water. You need to plan 30 minutes before and after for check in and to get changed. 
There are a number of great places to eat and drink in the area around Grand Canal Dock ranging from pub grub to sit down dinners. Please ask us for recommendations and discounts available to our customers. We also have a picnic area on site that you are welcome to use for your own food.
We are located a 10 minute walk from the Grand Canal Dock DART station and a 10-15 minute walk from The Point LUAS stop. Bus routes that stop close by on Ringsend Road are 1, 15a, 15b, 15d, 47, 56a and 77a.
A booking fee of €5 is non-refundable in all instances. All cancellations made by the customer must be made in writing and submitted via email or post. In the event of a cancellation or a request to reschedule more than 14 days (for group bookings) before a session commences, we will refund the amount paid to date minus the non-refundable booking fee of €5. In the event of cancellation/rescheduling less than 14 days (for group bookings) before a session commences the amount paid to date is forfeited. Non-attendance will result in the entire amount paid to date to be forfeited. Please see the full terms and conditions for activity bookings here.
The Grand Canal Dock is a sheltered and enclosed space, which means our sessions can go ahead in most conditions unless it is not safe to do so for example if there are very strong winds. Rain does not stop us from running a session. In the rare case that we need to cancel or postpone a session, we will offer you a full refund or to reschedule the session.