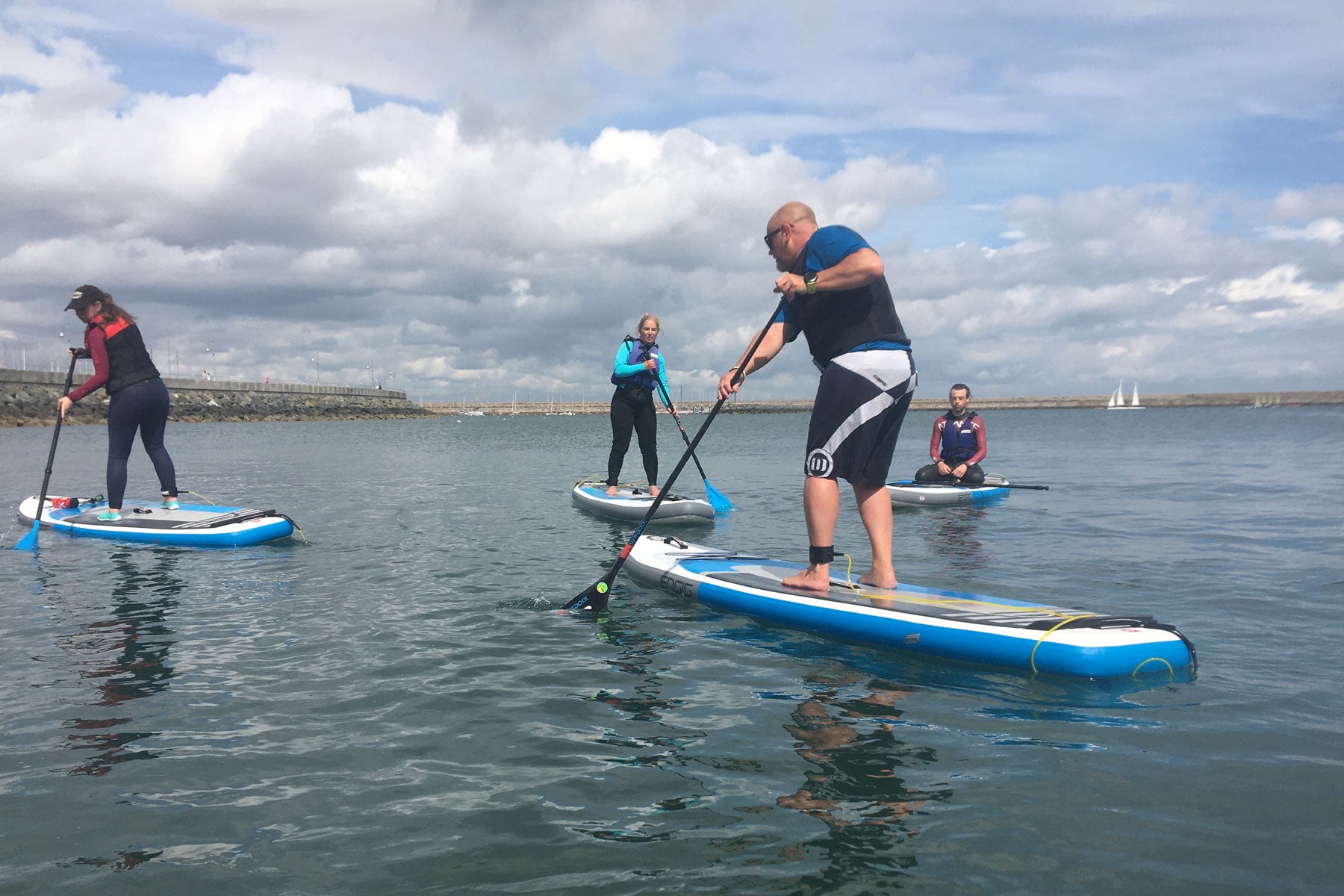 Stand up Paddle Board Open Water Lessons
€45 per person / Starting May 2023
SUP Open Water Classes in Dublin
Do you already have some experience paddleboarding and want to take it to the next level? Then this class is for you. If you are comfortable with the basic paddling techniques and know how to keep your balance on the board then the next step is to take a class that will give you the skills and knowledge to tackle more challenging bodies of water. During this open water class our experienced instructors will expand on the techniques learnt in our beginner class and share the knowledge needed for safe coastal paddling. Explore Dublin Bay on your paddleboard and gain the confidence to take your paddleboarding journey to the next level.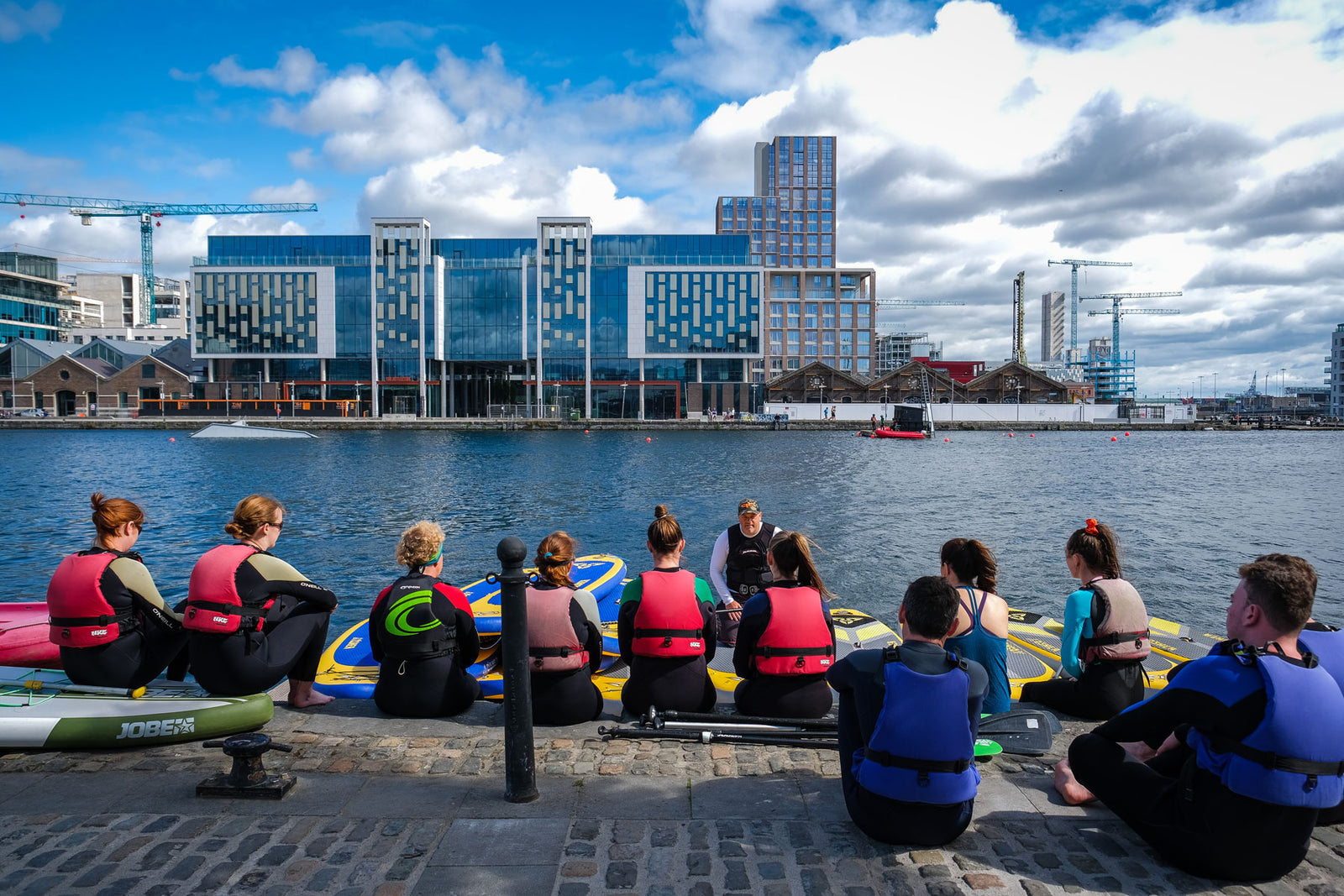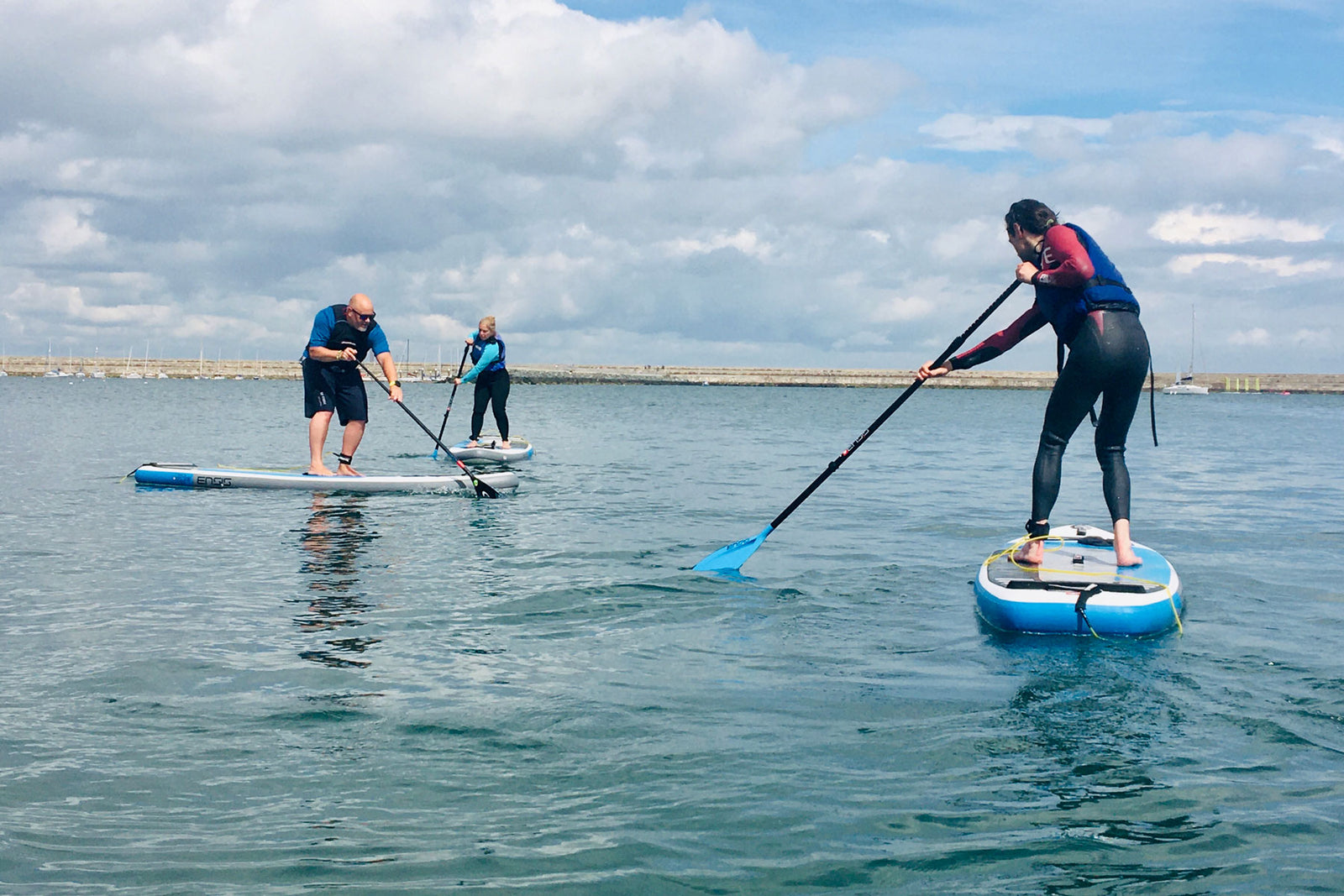 Who is it for?
Anyone aged 12 upwards is welcome to join this class if they have previous paddleboarding experience (comfortable paddling and keeping your balance on the board). Maybe you have your own SUP and you know the basics, but would like to gain more confidence before heading out to explore the coast. Our team of instructors have extensive experience working with both adults and children.
What does it cost?
The class is €45 per person.
Where do the open water classes run?
This session is weather dependent. It will run in either Sandycove or if it is a windy day in Dun Laoghaire Harbour.
What does a typical class look like?
Please arrive a few minutes before your lesson starts to get checked in and changed to go on the water. Your instructor will start with a dry land coaching session where they will explain your route, discuss the weather conditions and how that could impact your trip and what to look out for on longer journeys, before they take you out on the water. You will finish after around 1.5 hours, but do plan in some more time to get changed afterwards.
What equipment do I need?
We provide all equipment for this class including a wetsuit, buoyancy aid and helmet (under 18s only). If you require a rental wetsuit, please let us know your T-shirt/Dress size on the booking form so the instructor knows what to bring.
Participants need to bring:
Swimwear for under the wetsuit.
Appropriate footwear. We recommend an old pair of runners, neoprene booties or water shoes.
Note: Loose footwear like flip flops or Crocs are not allowed.
Big Towel or changing robe to get changed outside. Please treat a trip to us like a trip to the beach.
If you are looking at purchasing your own SUP equipment, talk to your instructor or our team in the shop. We are happy to give you advice and recommendations for the right board and accessories for you.
Yes, all participants have to sign a waiver before they can go on a session with us. This is attached to your booking confirmation and can be easily filled in online and shared with other people (if applicable). The text of the waiver can be found here.
This year we will have separate outdoor changing areas for boys and girls. They don't offer 100% visual cover so we are asking you to treat a trip to us like a trip to the beach and be prepared with a big towel or changing robe. If possible, we would ask that children arrive to camp already changed into their wetsuits. 
Our toilets are open as usual. 
The children's bags are in a communal locker while they are out on the water. This is closed, but we advise against bringing valuables to the camp as we cannot take liability for lost, damaged or stolen items.
You are welcome to pull in on the cobblestone area right outside the camp for drop off and pick up. Please be mindful of other drivers and pedestrians.
A booking fee of €5 is non-refundable in all instances. All cancellations made by the customer must be made in writing and submitted via email or post. In the event of a cancellation or a request to reschedule more than 14 days (for Easter and Summer Camp bookings) before a session commences, we will refund the amount paid to date minus the non-refundable booking fee of €5. In the event of cancellation/rescheduling less than 14 days (for Easter and Summer Camp bookings) before a session commences the amount paid to date is forfeited. Non-attendance will result in the entire amount paid to date to be forfeited. Please see the full terms and conditions for activity bookings here.
We are located a 10 minute walk from the Grand Canal Dock DART station and a 10-15 minute walk from The Point LUAS stop. Bus routes that stop close by on Ringsend Road are 1, 15a, 15b, 15d, 47, 56a and 77a.
The Grand Canal Dock is a sheltered and enclosed space, which means our sessions can go ahead in most conditions unless it is not safe to do so for example if there are very strong winds. Rain does not stop us from running a session. In the rare case that we need to cancel or postpone a session, we will offer you a full refund or to reschedule the session.